Federal fisheries officials are predicting below-average brown shrimp season for the next year in waters off Louisiana and federal waters off Louisiana and Texas.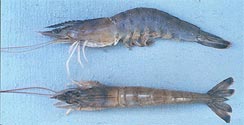 The juvenile brown shrimp population and growth estimates are obtained by monitoring the inshore commercial shrimp fisheries in Texas and Louisiana. Data is obtained from multiple state and federal offices and the commercial shrimp industry. [email protected]
You must log in to post a comment.