Tag Archives:
Millennium Marine
Millennium Marine, the boatbuilding company in Eastport, is seeking $226,662 in damages and also claims to have suffered losses of $430,000 because of defaults by the city and county, including business interruption and lost sales caused by delays in repairs following a 2014 fire at its building, The Quoddy Tides reported. Disputes between the company and the city began earlier this year over disagreements around the company's rent payments. The company's attorney, Joseph Baldacci of Bangor, told the newspaper that the attorneys for the city and county have received the lawsuit. But city attorney Dennis Mahar said the case had not been filed in Washington County Superior Court and the city had not been served with the complaint. Read the rest here 19:20
Cory Guimond
, owner of
, says his new operation in the United States will help his company navigate through American
red tape. Guimond has just set up business in a long-vacant linen factory in Eastport, Maine where commercial fishing vessels are the mainstay of his operation.
Read more here
  09:28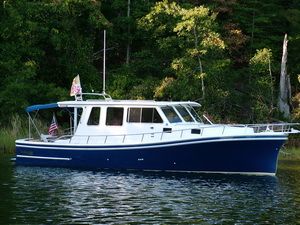 EASTPORT, Maine — A long-established Canadian boat-building firm is expanding its operations to the Washington County community of Eastport later this year, a project expected to create as many as 50 jobs. New Brunswick-based Millennium Marine has been building boats in Escuminac since the 1940s and now produces a line of custom-built fiberglass boats that range in hull size from 25 to 60 feet. continue reading